PRODUCT CATEGORIES
CONTACT US
DANBACH ROBOT JIANGXI.INC.
Phone:
+86-18602162995
Tel:
+86-0791-88133135
Fax:
+86-0791-88221576
E-mail:
info@dbhrobot.com
Address:
No.811,Chuangxin 3rd road,High-tech district,Nanchang city,Jiangxi province,China
AGV car control system
DANBACH ROBOT
---
AGV control system
AGV control system is a key module including system configuration, task management, congestion control and real-time monitoring. It can control and manage AGV, realize dynamic task scheduling, task call and automation equipment interfaces such as ERP, WMS and PLC. Logistics system, an important component.
AGV control system can complete the functions of basic navigation and automatic transportation tasks such as map definition, path configuration and task management. It can also carry out multi-machine collaborative management and congestion control to complete complex scheduling tasks, and play AGV mobile navigation vehicle Automation equipment, a variety of call terminals, workstations and personnel and other systematic overall performance, is the enterprise intelligent logistics system, an important part of flexible manufacturing system.
AGV control system module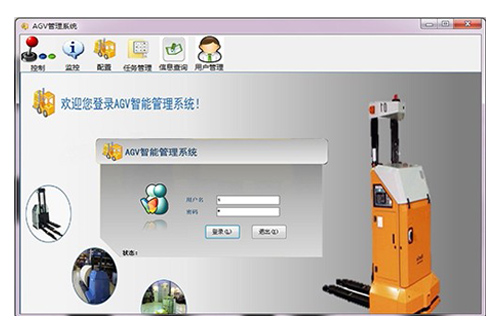 A, map management functions
1, support path editing and configuration, multi-AGV centralized distribution path;
2, magnetic navigation AGV support RFID landmark definition, support multi-path combination configuration and issued;
3, inertial navigation AGV supports CAD map import, the definition of calibration points, automatically generate the run path;
B, dynamic task management
1, support automatic tasks issued, and ERP or production software for data exchange, automatic distribution of transport tasks;
2, to support the manual assignment, specify the specific transport tasks to the destination;
3, support for on-demand call function, traffic management software to dynamically deploy AGV complete the transport of goods to the designated location;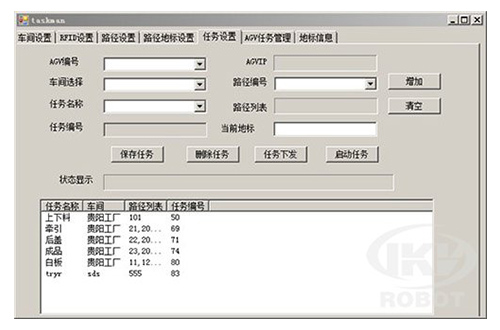 C, multi-AGV configuration distribution
1, support multi-AGV management, support software parameter centralized configuration distribution;
2, a powerful path editing capabilities, multi-path can be defined as a combination of tasks;
3, support AGV vehicle control software remote upgrade and fault diagnosis, maintenance is simpler;
D, rich interface and extended functions
1, I / O modules can be defined, user-defined events and actions;
2, support and PLC interface, automatic completion of material unloading docking;
3, support for wireless call terminals, click to call AGV to the station;
4, support for ERP and WMS data exchange, automatic generation of transport tasks;
5, support for Tablet PC control, automatic or manual mode operation;
E. Congestion control and avoidance management
1, you can customize the avoidance area, AGV collaboration through the intersection of sections;
2, dynamic congestion control algorithm, multi - AGV efficient and orderly work;
3, efficient AGV scheduling algorithm to ensure that the logistics and transport process optimization;
F, real-time monitoring and reporting statistics
1, can be implemented to view all the AGV running routes, operating status, speed and other data;
2, real-time view AGV power status, the implementation of tasks and tasks to complete the situation;
3, statistical summary of a certain period of time the AGV running status, output statistical reports and task reports;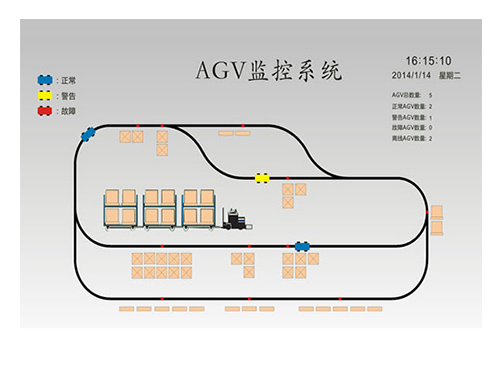 AGV control system advantages
1, support a variety of navigation AGV collaborative work;
2, support for dynamic call tasks, manually assigned tasks, and automatically assigned tasks;
3, real-time display AGV operating status, and abnormal alarm;
4, software online upgrade, AGV embedded system can also be upgraded through the control system online;
5, can automatically PLC and other automation equipment interface actions and events;
6, can provide related actions and tasks for the upper software calls and queries.
AGV control system parameters
characteristic
Specifications
description
Operating environment
Service-Terminal
Windows 2003/2008 SERVER
Client
WinXP / Win7 / Win2008
mobile client
Android 4.0 and above
Support database
Mysql server
stand by
SQLserver 2000
stand by
Map format
YAML format
stand by
CAD format
stand by
Protocol
TCP / IP WIFI
stand by
Zigbee protocol
stand by
Call terminal
Phone, or tablet
stand by
433MH Call button
stand by
Software maintenance
Multi- 

AGV batch configuration distribution

stand by
Software online upgrades
stand by
Statistical report format
EXCEL or 

TXT

VPN virtual network access
stand by
Previous:
Inertial navigation the AGV
next:
Automatic lifting the AGV
you may also like / More Like